2021 Nominations are OPEN
---
You can submit a nomination for the 2021 Alumnus of the Year award through our online form. The deadline is March 26.
For additional information, contact Alishia Piotrowski.
Established in 1994, the Dedman College of Hospitality Alumnus of the Year Award honors and celebrates individuals who embody the qualities that make the Dedman College of Hospitality at Florida State University an unparalleled place to learn. The inductees are FSU hospitality alumni who have excelled in their careers and have made significant contributions to the mission of the Dedman College of Hospitality.
The award is presented at the annual Honors & Awards ceremony and dinner in the fall. The 2021 Honors & Awards is set for Thursday, October 21st.
The criteria for selection:
Graduation from the Dedman College of Hospitality
Exceptional career background
Significant professional recognition (industry/association awards)
Community involvement and recognition
Support of the Dedman College of Hospitality and Florida State University
2020 Alumnus of the Year
---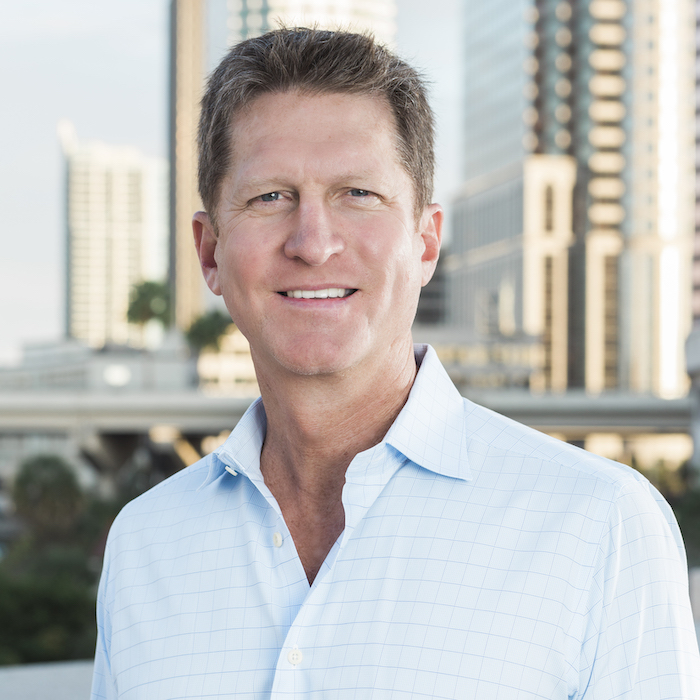 Joe C. Collier
President
Mainsail Lodging and Development
---
As President, Joe Collier sets the tone for Mainsail and, together with his leadership team, works to build a company where employees, partners and investors are all highly valued, and new ideas are welcomed. A native Floridian born in Miami, Joe received his Bachelor of Science in Hotel Management and Marketing from Florida State University and completed his internship in the European Hotel program in Leysin, Switzerland. He spent 15 years with Marriott International in sales, marketing and development before forming Mainsail in 1998.
Under Joe's leadership, Mainsail was selected to develop and manage the world training headquarters for PricewaterhouseCoopers which included a 130,000 square foot training building, 360 unit hotel and amenities under a 10 year master lease with PwC. Since then Joe has established a high-end portfolio of lifestyle, boutique hotels, vacation rental homes and corporate furnished apartments throughout the Southeast and Caribbean. The company has been consistently recognized for excellence in the travel industry by Condé Nast Traveler, Trip Advisor, Southern Living, Wine Spectator and U.S. News & World Report. Additionally, Mainsail has received multiple awards from Marriott International, including induction into the Partnership Circle Hall of Fame. Mainsail Lodging & Development is the General Partner on the majority of its projects and finished 2019 with over $60 million in revenues.
Joe has been working in hotels and restaurants since he was 13 years old. He personally oversaw the restoration of the historic Leiman Home which is an architectural gem in South Tampa and on the National Register of Historic Places. Joe is an executive board member of both the Hillsborough County Hotel Association and Visit Tampa Bay, and has served on the Tourist Development Council since 2005. From 2016 to 2018, Joe stepped up as the Chairman of the Tampa Bay Sports Commission and participated in bringing both the National Football Championship and Super Bowl LV to Tampa, along with many other marquee events. In 2018, Joe was awarded the "Gonzmart Family Tourism Ambassador of the Year" by Tampa's hospitality industry. He and his wife Camille are affiliated with multiple charities, have 3 children and live in South Tampa.
Past Recipients
---
Year
Recipient
Position
Company
2019
Clint Day ('82)
Chief Operating Officer
Restoration Place
2018
Brian Ford ('89)
CEO
Tampa Bay Buccaneers
2017
Janine Budzius ('86)
General Manager & CEO
Philadelphia Country Club
2016
Dale Haney ('78)
President
Gate Hospitality Group
2015
Ted Mosley ('69)
President & CEO
Quorum Hotels & Resorts
2014
Ed Crovo ('69)
Chief Operating Officer
HV Global Group, Inc.
2013
Ty Helms ('79)
Senior VP of Global Sales
Hyatt Hotel Corporation
2012
Carol Dover ('78)
President & CEO
Florida Restaurant and Lodging Association
2011
John Culver ('82)
President
Starbucks Coffee
2010
Joseph Douglas ('83)
Co-Founder
Managing Member
Captiva Restaurant Group
Carlsen Douglas Development
2009
David Gilbert ('78)
Chief Operating Officer
National Restaurant Association
2008
Anne Hamilton ('78)
VP of Resort Sales & Services
Walt Disney World Resort
2007
Chuck Floyd ('81)
COO of North American Operations
Global Hyatt
2006
Cyd Bougae ('75)
Assistant Professor
New York University
2005
Bill Wagner ('67)
General Manager & COO
Shadow Wood Country Club
2004
Jeff O'Hara ('88)
President
AlliedPRA New Orleans
2003
Jeff Bell ('83)
Executive Vice President
Hillstone Restaurant Company
2002
Peter Hubschmidt ('67)
Regional Manager
Marriott
2001
Chris Borders ('75)
General Manager & COO
Atlanta Athletic Club
2000
Ashby Gordon Stiff, Jr. ('57)
Professor Emeritus in Hospitality
Florida State University
1999
Gabriel Brady ('61)
VP of Sales & Marketing
Gate Gourmet
1998
Martha Ann Hall-Ambrosio ('57)
Partner & Vice President
Controlled Cuisine
1997
Ken Creely ('66)
President & CEO
Golf Management Solutions
1996
James R. Steiner, Jr. ('75)
Partner
Abbott Realty
1995
Jim Riscigno ('66)
Executive Vice President
ClubCorp
1994
Ed Staros ('72)
Founder & Executive Vice President
Ritz-Carlton Hotels
title-inside title-centered
2