Starting in 2022, the Alumnus of the Year award will be the Dedman College of Hospitality Hall of Fame. All previous recipients are automatically inducted into the Hall of Fame.
Nominations are Closed
---
You can submit nominations for the Hall of Fame through the online form below. The deadline is April 1st.
For additional information, contact Alishia Piotrowski.
The Hall of Fame celebrates those who embody the qualities that make the Dedman College of Hospitality at Florida State University an unparalleled place to learn. Inductees are individuals who have excelled in their careers and have made significant contributions to the Dedman College of Hospitality mission.
The award is presented at the annual Honors & Awards ceremony and dinner in the fall. This year, recipients will be inducted into the Hall of Fame at the 75th Anniversary Gala on Friday, October 21st. The Gala will be replacing Dedman's annual Honors & Awards this year only.
The criteria for selection:
Exceptional career background
Significant professional recognition (industry/association awards)
Community involvement and recognition
Support of the Dedman College of Hospitality and Florida State University
2022 Hall of Fame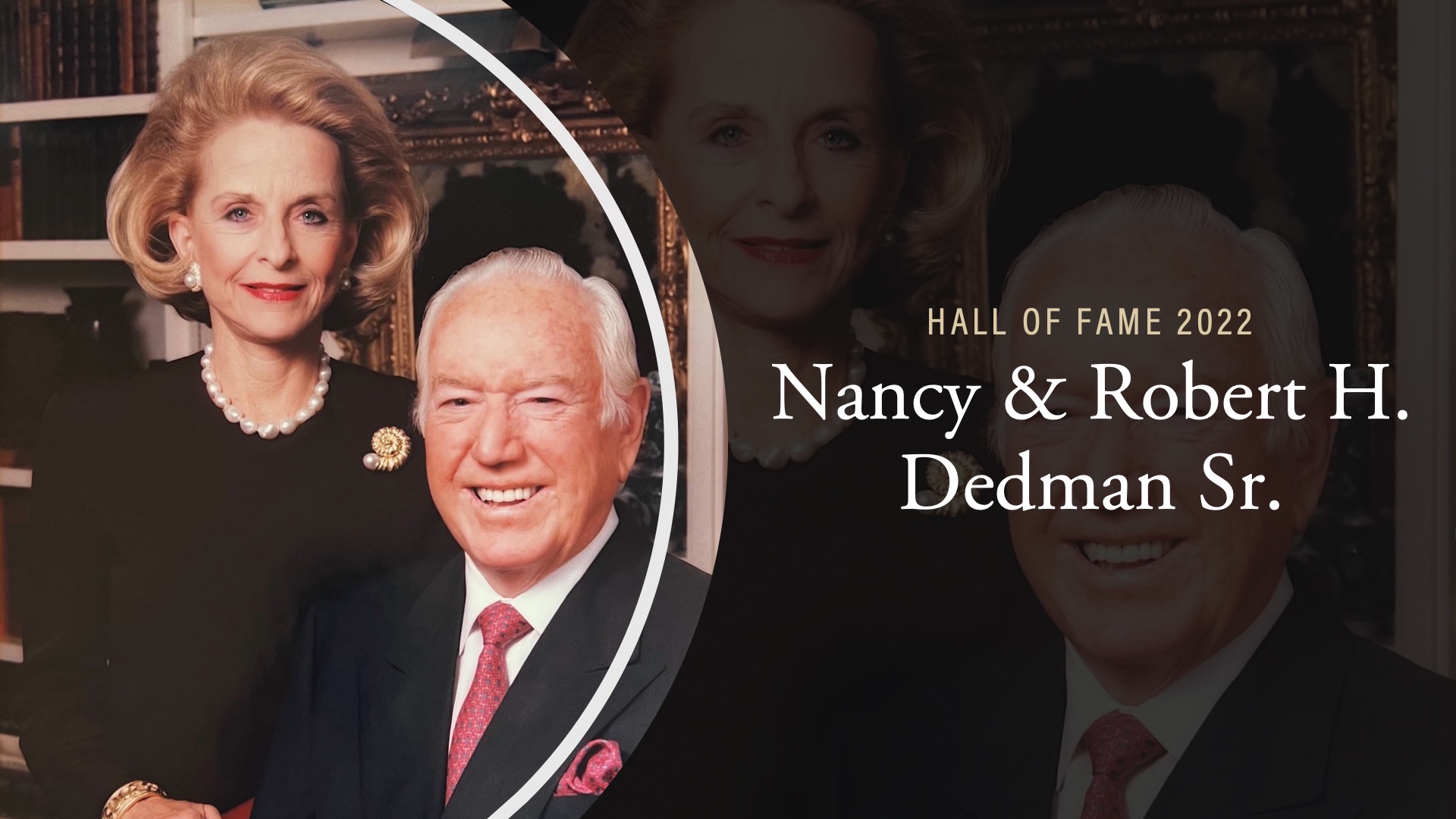 Nancy and Robert H. Dedman Sr.
ClubCorp
Robert H. Dedman Sr., who passed away in 2002, was the founder of Dallas-based ClubCorp, a leading operator of golf courses, private clubs, and resorts.
Dedman was the son of a traveling salesman in rural Arkansas. At fourteen, he and his brother moved to Dallas, Texas to live with their aunt. His ambition for success and the will to help others developed early. Robert graduated high school as valedictorian and set his life goal at just eighteen – to make $50 million by age 50 and give $1 million a year to charity. He achieved that goal, and his benevolence is exhibited in the many generous gifts he has bestowed on institutions of higher learning.
Dedman went on to enlist in the U.S. Navy and proceeded to earn three degrees from the University of Texas. After leaving duty, he returned to Dallas and earned a law degree from Southern Methodist University all while selling insurance and real estate full time. By his mid-20's, he was already a partner in a prominent Dallas law firm.
Dedman was married to Nancy McMillan Dedman for 49 years. She also attended Southern Methodist University and graduated with a degree in political science. She was the vice president of interior design at ClubCorp prior to its sale. The couple had a son, Robert Dedman Jr., and a daughter, Patricia Dedman "Patty" Dietz.
While on a vacation with Nancy, Dedman learned of the real-estate craze surrounding a newly built country club. In 1957, he founded Country Club, Inc., later renamed ClubCorp. By acquiring golf courses and private clubs into one company, Dedman broadened the golf and country club market to more than just the wealthy elite. ClubCorp would become the world's largest owner and operator of clubs and resorts.
Robert and Nancy established The Dedman Foundation in 1995. The foundation is known for its significant support to higher education, public charities, civic organizations, and medical institutions.
It wasn't until the 1970's that the Dedmans would create their connection with Florida State University. At that time, FSU hospitality graduate, Jim Riscigno, began a career with ClubCorp and worked his way up to executive leadership.
In the 90's, discussions were taking place on campus on funding the final building of FSU's University Center complex at the south end of Doak Campbell Stadium. Ideas were also brainstormed about relocating the hospitality department to the proposed building and possibly partnering it with a lodging and food facility.
Seeing the potential for a mutually beneficial partnership, Riscigno approached Dedman with a proposal to work with the university. The request was honored.
In 1999, The Dedman Foundation donated $7 million, later matched by the State of Florida, to the department of hospitality administration. and established the Dedman Endowment in Hospitality at Florida State University. In 2001, the department became the Dedman School of Hospitality.
Soon after, ClubCorp donated an additional $1.5 million, which was also matched by the State of Florida.
At the time of Dedman's death in 2002, ClubCorp was a leading operator of golf clubs with over 200 resorts in its portfolio. The family sold ClubCorp in 2006 but retained Pinehurst Resort and Country Club, which has transformed into a multi-sport resort that has hosted a number of prestigious golf tournaments including three U.S. Open Championships, one U.S. Women's Open, three U.S. Amateur Championships, one PGA Championship, and the Ryder Cup.
In an interview on the 45th anniversary of ClubCorp, Dedman said he would like to be remembered as a giver, not as a taker.
"Robert Dedman truly was a visionary. It was my honor and privilege to know him, learn from him and be associated with ClubCorp," golfer Jack Nicklaus and his wife, Barbara, said in a statement upon his death. "The world of golf has lost a legend."
Past Recipients
---
Year
Recipient
Position
Company
2021
Tony Leung ('68)
Owner/Entrepreneur
Subway Franchise
2020
Joe Collier ('84)
President
Mainsail Lodging and Development
2019
Clint Day ('82)
Chief Operating Officer
Restoration Place
2018
Brian Ford ('89)
CEO
Tampa Bay Buccaneers
2017
Janine Budzius ('86)
General Manager & CEO
Philadelphia Country Club
2016
Dale Haney ('78)
President
Gate Hospitality Group
2015
Ted Mosley ('69)
President & CEO
Quorum Hotels & Resorts
2014
Ed Crovo ('69)
Chief Operating Officer
HV Global Group, Inc.
2013
Ty Helms ('79)
Senior VP of Global Sales
Hyatt Hotel Corporation
2012
Carol Dover ('78)
President & CEO
Florida Restaurant and Lodging Association
2011
John Culver ('82)
President
Starbucks Coffee
2010
Joseph Douglas ('83)
Co-Founder
Managing Member
Captiva Restaurant Group
Carlsen Douglas Development
2009
David Gilbert ('78)
Chief Operating Officer
National Restaurant Association
2008
Anne Hamilton ('78)
VP of Resort Sales & Services
Walt Disney World Resort
2007
Chuck Floyd ('81)
COO of North American Operations
Global Hyatt
2006
Cyd Bougae ('75)
SVP of Professional Development
CMAA
2005
Bill Wagner ('67)
General Manager & COO
Shadow Wood Country Club
2004
Jeff O'Hara ('88)
President
AlliedPRA New Orleans
2003
Jeff Bell ('83)
Executive Vice President
Hillstone Restaurant Company
2002
Peter Hubschmitt ('67)
Regional Manager
Marriott
2001
Chris Borders ('75)
General Manager & COO
Atlanta Athletic Club
2000
Ashby Gordon Stiff, Jr. ('57)
Professor Emeritus in Hospitality
Florida State University
1999
Gabriel Brady ('61)
VP of Sales & Marketing
Gate Gourmet
1998
Martha Ann Hall-Ambrosio ('57)
Partner & Vice President
Controlled Cuisine
1997
Ken Creely ('66)
President & CEO
Golf Management Solutions
1996
James R. Steiner, Jr. ('75)
Partner
Abbott Realty
1995
Jim Riscigno ('66)
Executive Vice President
ClubCorp
1994
Ed Staros ('72)
Founder & Executive Vice President
Ritz-Carlton Hotels
title-inside title-centered
2