Hanks receives 2017 Emerging Professional Graduate Award
---
Hanks receives 2017 Emerging Professional Graduate Award
October 12, 2017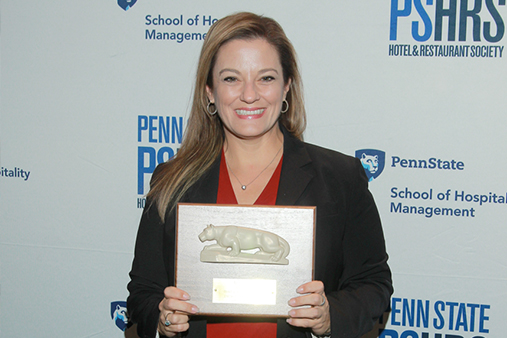 Lydia Hanks, assistant professor of hospitality management at the Dedman School, was honored by the Penn State School of Hospitality Management and Penn State Hotel and Restaurant Society with their 2017 Emerging Professional Graduate Award on Oct. 11.
Hanks received the award at her alma mater's 2017 Alumni Awards Reception held in conjunction with its annual Alumni in the Classroom event. She earned her doctorate at Penn State in 2012.
"Our alumni award recipients are great examples for our students who aspire to be future leaders in our dynamic industry," said Brian Black, their director of hospitality industry relations.
Since joining the faculty of the Dedman School of Hospitality five years ago, Hanks has been inspiring students at Florida State University. She received both Florida State's Transformation Through Teaching Award and University Undergraduate Teaching Award. Her teaching areas include hospitality accounting, lodging operations, and service management.
Hanks' research focuses on consumer behavior, services marketing, and corporate social responsibility. She and colleague, Nathan Line, were recently featured speakers at the Hospitality Consumer Behavior Research Conference at Boston University. They presented a series of research studies investigating the phenomenon of the social servicescape and examining the effect of other consumers on the service environment.
Learn more about Dr. Lydia Hanks.
420