Two student interns opening EDITION Hotels in Turkey, Spain, and China with VP Dan Flannery
---
Two student interns opening EDITION Hotels in Turkey, Spain, and China with VP Dan Flannery
June 13, 2018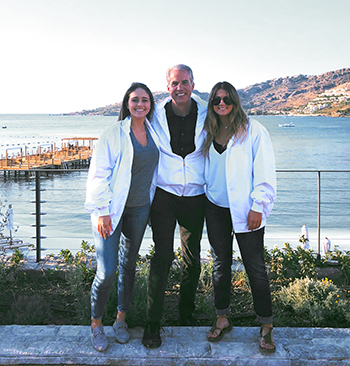 An exciting summer internship has two FSU Dedman School of Hospitality students traveling the world to participate in the openings of luxury boutique EDITION Hotels with senior vice president and managing director Dan Flannery this summer.
Based out of EDITION's Brand Office in New York City, hospitality and tourism management majors Kaycee Hodges and Marissa Anne LoGalbo recently traveled to Bodrum, Turkey, for the opening of the Bodrum EDITION hotel.
"At the opening in Bodrum, I helped coordinate rehearsals of new employees for the hotel's restaurant, front-of-house, and spa," said LoGalbo, an FSU student from Jensen Beach, Florida. "It was my first time outside of our country and it was incredible. Turkey was breathtaking, the people were amazing, and the culture is so different. I can't wait for Spain and China!"
LoGalbo and Hodges are anticipating two more excursions for EDITION openings this summer — one to Spain for the Barcelona EDITION and another to China for the Shanghai EDITION. Back in New York between travels, the internship has them exploring the EDITION organization.
"The beauty of this internship is that Mr. Flannery is allowing us to participate in each part of what makes up an EDITION Hotel and the experience," Hodges said. "We've worked in marketing, creative design, event planning, public relations, culture and entertainment, and are building relationships with some of the most talented, intelligent people in their fields."
Flannery leads the brand office of EDITION Hotels and has been credited with developing their team, culture, platform and systems. He has also served as executive vice president of Langham Hospitality Group's North American operations, chief operating officer of Morgans Hotel Group, and vice president of The Ritz-Carlton Hotel Company, L.L.C.
"I have lost track of the number of Dedman students that I have recruited for internships and management positions in The Ritz-Carlton, Morgans Hotel Group, and EDITION," Flannery said. "Even more importantly, I steered two of my children south to Tallahassee to Florida State University and the Dedman School for the quality of education and the values they would be exposed to there. They are both successful leaders in the industry now."
448