Retiring faculty member Bob Brymer focused on career opportunities as a key to student success
---
Retiring faculty member Bob Brymer focused on career opportunities as a key to student success
July 03, 2018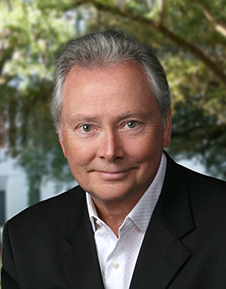 Florida State University professor Robert "Bob" Brymer, the Dedman School of Hospitality's Cecil B. Day Distinguished Professor of Ethics, retires this summer. His 37-year career at FSU leaves a lasting imprint on the university, the hospitality industry, and thousands of alumni.
Before accepting a faculty position at Florida State University in 1981, Brymer worked in hotel management and supervisory positions, and earned a bachelor's degree in hotel, restaurant and institutional management at University of Denver, an MBA at Michigan State University, and a doctorate degree in psychology at University of Denver.
In the decades that followed, he became recognized as a top international hospitality researcher and received the International Council on Hotel, Restaurant, and Institutional Education's (ICHRIE) Stevenson W. Fletcher Achievement Award for outstanding contributions to education in the field. The 17th edition of his textbook, "Hospitality: An Introduction," is slated for release in 2019.
Brymer founded the school's former professional golf management program in 1994 and served as its director until 2000. He served as director of the Dedman School from 2006 to 2008, but he will be remembered by countless alumni and industry leaders for his mentorship and dedication to student success.
"My biggest passion has been serving our students by helping them carve out lifelong careers with great companies," Brymer said. "Great jobs can change lives forever."
"I owe my 30 year career at Disney to Bob looking out for me and understanding what my career goals were," said David Dinnie ('88), director, Human Resources Business Partner, The Walt Disney Company. "He set up a lunch meeting for me with Meg Crofton, an FSU alumna and Disney executive, when she came to speak in class. That investment set me up for success beyond what I dreamed possible."
During nearly four decades at the Dedman School, Brymer spearheaded initiatives to build a network of top hospitality industry partners and open doors to student recruitment by regularly engaging industry leaders and bringing them to Florida State to lecture and advise students.
"I find myself remembering so many young ladies and gentlemen joining me for hotel careers after graduating FSU," said Horst Schultz, former president of The Ritz-Carlton Hotel Company. "In my conversations with these young people, it was clear that Bob was instrumental in inspiring their passion for service."
Brymer led the creation of professional development and recruitment events at the school, including an interview preparation workshop, a hospitality industry career fair and an internship fair. He helped establish the FSU chapter of the international hospitality honor society Eta Sigma Delta, and developed internships in the U.S. and abroad in Scotland, England, and Ireland.
"During my time with Dr. Brymer, he had already been at FSU for over 30 years and every Dedman student knew he would bend over backwards to get them an internship that was a perfect fit," said Colleen Williams ('16), assistant room service manager, Four Seasons Hotels and Resorts, Washington, D.C. "But by helping me out of my shell and encouraging me to consider an internship at a five-star hotel in Dublin, Ireland, he helped set the tone for the rest of my life. The experience taught me true independence in living and how to thrive in a foreign environment."
Brymer also dedicated himself to the school's focus on ethical business practices. He wrote articles on hospitality and ethics for research journals, presenting papers at academic conferences. He taught courses on hospitality leadership and ethics, as well as ethics and service leadership.
Along with alumnus Clint Day ('82), son of the Days Inn founder, Brymer launched the Cecil B. Day Ethics Award in 2007. Each year, the initiative recognizes a hospitality business leader known for ethical practices. Brymer holds a named professorship as the Cecil B. Day Distinguished Professor of Ethics.
"We are very grateful to Bob Brymer for the many contributions he has made to the Dedman School of Hospitality and to the success of our graduates," the school's director, Don Farr, said. "We see ongoing evidence of Bob's contributions in the areas of student and faculty mentorship, industry partnering, research excellence, and program development."
Alumni, industry members, and friends can contact Bob Brymer at rbrymer@dedman.fsu.edu. 
452