Popeyes' CEO receives Cecil B. Day Ethics Award
---
Popeyes' CEO receives Cecil B. Day Ethics Award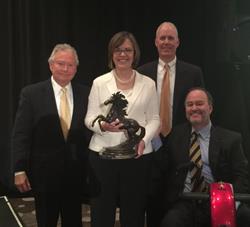 Cheryl Bachelder, CEO of Popeyes Louisiana Kitchen, was awarded the 2016 Cecil B. Day Ethics Award before several hundred gathered for the company's annual corporate kickoff in Atlanta on Jan. 19. Presenting the award were Robert Brymer, the Dedman School's Cecil B. Day Professor of Lodging Management, and sons of the late Cecil B. Day, Clint and Peyton Day.
Each year, the Dedman School of Hospitality confers the award upon a highly successful hospitality industry leader who is recognized for ethical leadership. The award was established in 2007 by Day's son, Clint, a 1982 Florida State graduate, in conjunction with his family, the university and the National Restaurant Association. It honors the memory of Day, whose success building the Days Inn chain reflects his faith-based values that led him to treat everyone with dignity and respect.
After years of declining sales and stock prices, Popeyes appointed Bachelder as CEO in 2007. Relations between the company and its franchise owners were strained at the time. By 2014, Bachelder had, by all accounts, led a remarkable turnaround of the company resulting in industry-leading performance for franchise owners and shareholders. In her book, "Dare to Serve: How to Drive Superior Results by Serving Others," Bachelder takes readers through the transformation of Popeyes and promotes servant leadership as a path to superior performance.
"By creating a workplace where everyone is treated with respect while challenging them to perform with excellence, Cheryl Bachelder shares the values exemplified by the late Cecil B. Day," said Brymer.
Past recipients of the Cecil B. Day Award include Robert B. Rowling, TRT Holdings, Inc.; Joel Manby, Herschend Family Entertainment Corporation; Eric Affeldt, ClubCorp; J.W. "Bill" Marriott Jr., Marriott International Inc.; Richard Rivera, Real Mex Restaurants Inc.; Michael Kaufman, National Restaurant Association; Horst Schulze, Capella Hotel Group; Craig Miller, SONIC Drive-in; and Truett Cathy, Chick-fil-A Inc.
5