Pink & Swine event nets Little Dinner Series $10K
---
Pink & Swine event nets Little Dinner Series $10K
June 01, 2017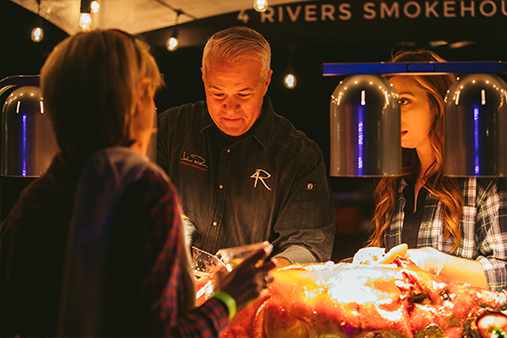 Blanketing the grounds of the Goodwood Museum and Gardens on April 7, Pink & Swine was an event for the Tallahassee community, promoting the gastronomic offerings of local chefs and artisans, and benefiting the Dedman School of Hospitality's Little Dinner Series and the Tallahassee Memorial Cancer Center with donations of $10,000.
A year before attendees strolled between white tents adorned with sparkling café lights at dusk while sampling gourmet treats and swaying to the music of country-rock band Tobacco Road, Florida State University alumnus John Rivers ('89) suggested creating a fundraiser to Carol Dover ('78).
Rivers, the entrepreneur-chef known for his regional 4 Rivers Smokehouse chain, had been co-hosting a successful Cows 'n Cabs charity event in Winter Park, Fla., for five years. He proposed a similar annual event in Tallahassee to benefit the Dedman School's Little Dinner Series.
Dover, president and CEO of the Florida Restaurant and Lodging Association (FRLA), suggested expanding the community reach of the project to benefit the Tallahassee Memorial Cancer Center.
What emerged was a plan for Pink & Swine — a benefit for Florida State University's Dedman School of Hospitality and the Tallahassee Memorial Cancer Center through a collaboration between the 4R Restaurant Group, the Florida Restaurant & Lodging Association and Visit Florida.
Tallahassee-area food and beverage establishments volunteered to participate in the event by preparing foods and providing craft beers, fine wines and spirits. Industry partners of the Dedman School donated hotel stays, golf outings and dinners to be offered at a silent auction.
Since 4Rivers Smokehouse was one of the restaurants slated for Pink & Swine, Rivers offered to promote the event at Dedman's Little Dinner Series. He and his team joined catering management students who were creating a Southern Promenade themed dinner on March 30 and infused it with elements of the 4Rivers brand. As usual, students designed, managed and implemented the dinner. Rivers and his team assisted with mentoring and the execution of the meal.
"The quality of the food, the presentation and the execution were all outstanding," Rivers said. "The students presented as good a four-course meal as I have had in many five-star restaurants throughout the country. Typically, we go to these types of events expecting to manage the evening's flow. We were pleasantly surprised to find we were actually in the way."
Fifty students from the Dedman School of Hospitality also contributed their time and efforts as volunteers on the evening of the Pink & Swine event. They worked in restaurant and bar booths, helped with food preparation and service, and assisted with event check-in and silent auction activities.
Ticket and silent auction proceeds from Pink & Swine were enough to provide $10,000 each to the Dedman School and Tallahassee Memorial Cancer Center.
"We are very grateful for the participation of our alumni and friends, industry partners and students," said Don Farr, director of the Dedman School. "The funds will help us continue to support the Little Dinner Series."
406
402