Kim Named NO. 3 Worldwide in Hospitality Research Impact
---
Kim Named NO. 3 Worldwide in Hospitality Research Impact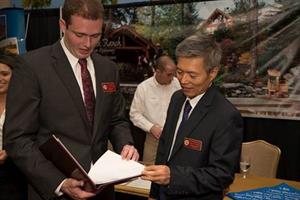 Woo Gon "Woody" Kim, the Robert H. Dedman Professor of Hospitality Management, ranks third in a list of the "Top 32 Hospitality Faculty by Research Impact," in a study published in the Journal of Teaching in Travel & Tourism.
Kim, who directs the International Center for Hospitality Research & Development at the Dedman School of Hospitality, has long been a prolific researcher. Studies published in 2011 and 2012 recognized Kim fifth and fourth respectively in worldwide productivity.
The 2015 study measured faculty research productivity based on four criteria—quality, quantity, consistency and longevity—to distinguish the best in hospitality research. The study analyzes research published from 2001 to 2010.
70