Graduating hospitality student earns unexpected award
---
Graduating hospitality student earns unexpected award
April 28, 2017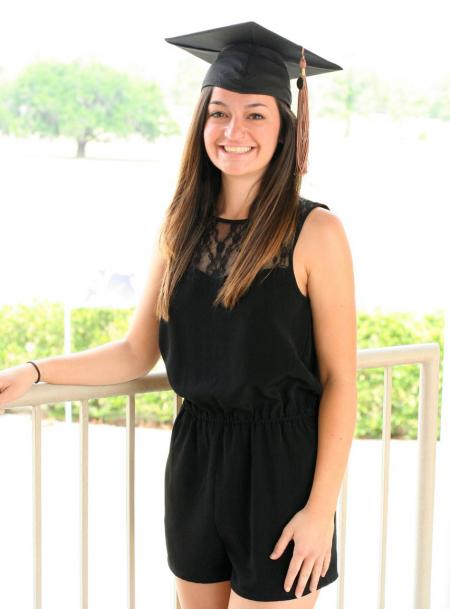 Until she earned it, Spring 2017 graduate Carly Plantamura never heard of the Delta Sigma Pi Scholarship Key. Her academic achievement — completion of a Bachelor of Science in hospitality management while maintaining a 4.0 GPA — led to a surprise recognition from a professional business fraternity.
Delta Sigma Pi, the professional business fraternity for men and women, has awarded a scholarship key to students graduating with the highest cumulative averages in business administration, regardless of affiliation, since 1912. Summa Cum Laude graduate Plantamura and three other students received the award for the 2016-17 academic year from Florida State University's Lambda Chapter of Delta Sigma Pi.
"I was extremely humbled to receive the award," Plantamura said. "The Dedman School goes above and beyond to ensure that its students are successful, and being able to represent it was a true honor."
Plantamura majored in global club management and has served as president of the Florida State University Student Chapter of the Club Managers Association of America.
"Since I came to FSU, I knew I wanted to be in the golf industry," she said. "I love the sense of peace that comes from being on the course and, most importantly, the opportunity to serve others."
Plantamura is beginning her dream job in golf merchandising at Whistling Straits in Kohler, Wisconsin. Its Straits Course has hosted the PGA Championship three times.
401