FSU celebrates 60th anniversary of Little Dinner Series
---
FSU celebrates 60th anniversary of Little Dinner Series
November 17, 2017
Florida State University's Dedman School of Hospitality celebrated the 60th anniversary of its Little Dinner Series with a special dinner  Nov. 16.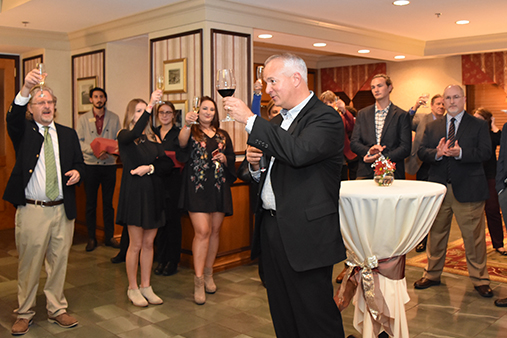 "This is a celebration to thank the patrons who have supported our students by attending the Little Dinner Series for the last 60 years," said Don Farr, director of the Dedman School.
John Rivers, a 1989 Florida State graduate and owner of the regional 4 Rivers Smokehouse chain, was a featured guest at the event. Rivers is an avid supporter of the Dedman School, and he led a celebratory toast to the Little Dinner Series.
"The quality of the food, the presentation and the execution at these events are outstanding," Rivers said. "The students present as good a four course meal as I have had in many five-star restaurants throughout the country."
Each semester since 1957, senior students of the Dedman School have worked side by side with instructors to create a series of themed, four course dinners as the focus of their catering management course.
Savvy local diners know the Little Dinner Series, which is open to the public, offers a fine-dining experience and a great deal. Diners are treated to delightful, high-quality culinary events in an exquisite venue at the University Center Club — the region's premier private club.
"Virtually 100 percent of our students land jobs in the hospitality industry and go on to manage organizations that include food and beverage components — hotels, clubs and restaurants," said faculty member Zach Weston, who teaches Dedman's catering management course. "By planning and managing every aspect of these dinners, our students experience the food and beverage side of the hospitality industry from the perspective of those they will one day manage."
Students conceptualize, plan and manage every element of their Little Dinner Series event right down to the food, menu and décor. They deliver extraordinary results at dinners hosted throughout the semester at the University Center Club.
The Little Dinner Series was created by the late Ashby Stiff, a beloved 40 year faculty member of the school, who also served as food critic for the Tallahassee Democrat newspaper. Learn more about the Little Dinner Series.
423