A faculty interview with Sean McGinley
---
A faculty interview with Sean McGinley
October 20, 2017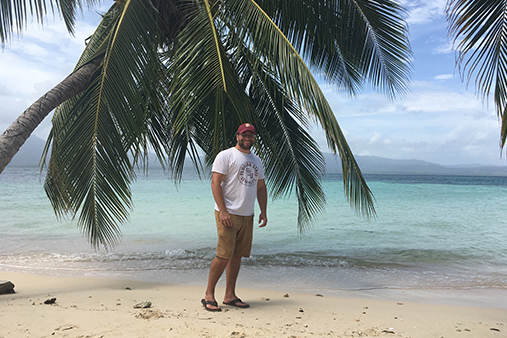 Sean McGinley serves as an assistant faculty member at the Dedman School of Hospitality. He came to Florida State University in 2015. McGinley earned a doctorate, masters and bachelors in hotel, restaurant, and Institutional management at Penn State University.
Prior to joining academia, McGinley worked as a hotel manager for six years at the Waldorf-Astoria in New York City, the Crowne Plaza Auckland in New Zealand, and the Fairmont in Pittsburgh. His research interest is in hospitality careers and how people develop professionally, both within the United States and abroad. His research focuses on careers and how people develop professionally within the U.S. and abroad.
DSH: How did you become involved in the hospitality industry? What attracted you to it? How would you recommend it to students?
McGinley: At 16 I got my first job, working the front counter at KFC. Oddly enough, that inspired me to study hospitality. Talking and laughing with guests was fun, so I figured I would go to college to see how I could make more money in the industry. The hospitality industry has an electric energy that makes it fun to be part of and there are boundless opportunities. For me, that meant a chance to live and work overseas. I did internships in Japan and England and worked full-time for two fantastic years in New Zealand. The industry has a diversity in professional and personal growth opportunities like no other.  I have gone from handling fried chicken at KFC to shaking hands with Carrie Underwood and U.N. delegations at the Waldorf-Astoria, and I am now a professor at one of the premier institutions for hospitality education, interacting with industry leaders returning to campus and preparing future industry leaders. Whatever your interest you can find a home in hospitality.
DSH: On your CV, we noticed you graduated with very high GPAs on all three of your degrees and you won numerous awards as a student. To what do you attribute your academic successes? Were you naturally gifted? What would you recommend to our students with regard to academic success?
McGinley: My academic success was due to taking the tortoise's and not the hare's approach. I never considered myself the smartest person in the room. In fact, I was worried about failing out before arriving on campus and started looking into other programs. Each class was approached pretty much the same—I read every book before class, attended every class and took my own notes, never printing out slides or outlines beforehand, and each evening I studied my own notes for 15-20 minutes. When exams came I was already prepared and felt confident, not stressed. I managed to do this while being a resident adviser and working in the kitchens on campus, so I got really good at organizing my time. For me, class was always the priority. I learned the lesson that you always have time for what you make time for, and I always made time for class.
It was the same for group projects and papers, I broke them up in the small manageable parts and was constantly pushing them forward, making them easier to complete and improving the quality at the same time. That reduced my stress levels and workload at any given point in time, keeping my mind fresh for the next challenge. I was also focused. I didn't participate in any clubs or student activities, and the charity I volunteered for only required one-hour each week that I could schedule on my time. By focusing on what mattered to me (class and having enough money to pay rent) I also benefited by having enough time and mental energy to engage in self-care, fun with friends, and enjoy my collegiate experience.
DSH: Real-world experience is a big plus for faculty who teach hospitality management to students. Your six years managing famous luxury hotels, like the Waldorf-Astoria, is similar to what we expect our students to experience upon graduation. What did you find most interesting about the experience?
McGinley: What I remember most from the Waldorf-Astoria are the people I worked with. They were the most talented group of individuals I have had the pleasure of working with and they became some of my closest, longest-lasting friends. One of the most interesting parts of the experience was learning about other cultures. Working in a city like New York, you interact with people from all over the world pretty much all day, every day. At my going-away party, there was only one other person from the U.S. I remember learning about coming-of-age ceremonies for young men in Ghana while eating homemade Lebanese food someone brought in to share with the office. Learning about the world from people you are working is a very enriching experience, and something hotel work, especially at places like the Waldorf, will give to you.
DSH: The Dedman School takes a global perspective on the hospitality industry. We want our students to study or intern abroad to gain multi-culture awareness for international careers or for domestic ones with top international organizations. This summer, you taught hospitality management courses in the Republic of Panama for FSU International Programs, and you have managerial experience at the Crowne Plaza in Auckland, New Zealand. What do you find most compelling about traveling abroad? What do you think you gained from these experiences? What do you think they offer students?
McGinley: My first time outside of North America was in Japan and I stayed there for three months completing an internship at an English-speaking club. What left a mark was the stark contrast between working where I understood everything and walking outside and being struck illiterate. Not being able to read means you really have to observe people—the way they do things, the places they go—and how to get around and learn where things are. That time, and every time I travel, something new is learned. It's compelling in that not only do you learn about other people, but you learn something new about yourself. The Japan experience impacted me to the point I never wanted to stop traveling and learning about people all over the globe. Hopefully, Dedman students will get those same experiences that challenge them and force them out of their comfort zones. There is nothing like taking a risk on yourself and winning, and that's what so many of our international programs, for work or study, offer students. The world is a very interesting place and you never know what lifelong experiences you will take from it.
DSH: Tell us about your academic experiences since you arrived at the Dedman School at Florida State. What courses are you currently teaching? What kind of research are you doing, and what are your current interests?
McGinley: First and foremost, our student body has been very impressive. They are an energetic group, who show a great capacity for leadership and a genuine excitement about taking over the mantel as industry leaders. I currently teach Lodging and Luxury Hotel Management, and Hospitality Leadership and Ethics. My research is devoted to careers in the hotel industry—from what attracts people to certain companies to why people ultimately leave those companies and sometimes the industry itself. The proudest I ever felt as a hotel manager was when a member of my team was promoted and I feel my role as a professor is to promote my class from being students to being managers.
Sean McGinley: The basics
Title: Assistant Professor, Dedman School of Hospitality, Florida State University
Degrees: Ph.D., Hotel Restaurant & Institutional Management, Organizational Behavior, Pennsylvania State University; M.S., Hotel, Restaurant & Institutional Management, Pennsylvania State University
Learn more: Sean McGinley's curriculum vitae.
421