Dedman's 'Coach' Ernie Lanford retires leaving a legacy of successful students
---
Dedman's 'Coach' Ernie Lanford retires leaving a legacy of successful students
May 22, 2018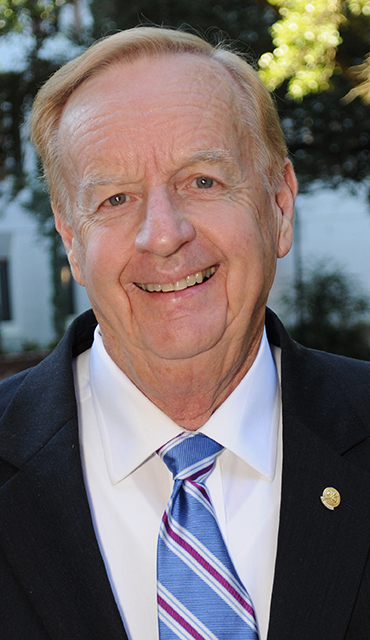 Dr. Ernest Lanford's retirement from Florida State University's Dedman School of Hospitality this summer will end a career filled with countless academic and athletic successes, but most will remember his impact as an affirming and effective teacher.
"Ernie Lanford is one of the best teachers I have ever met," said former FSU football coach Bobby Bowden. "He makes you feel comfortable from the first time you meet him and he is the picture of patience. Kindness is second nature to Ernie and he is a pleasure to be with. His focus on fundamentals has made him a highly successful instructor."
Lanford earned a Bachelor of Science in business administration at FSU in 1960 and served as assistant coach of the Seminole baseball team from 1963 to 1967. A lifetime member of the PGA, he began his career in golf in Tallahassee before serving as head PGA Golf Professional at Breakers West Golf Course in Palm Beach, Fla.
From 1960 to 1968, Lanford served in the U.S. Army 7th Infantry Division, U.S. Army Special Forces Reserve, and was honorably discharged with the rank of captain. In 1971, he moved to Michigan State University to earn a master's degree in physical education, and then to Brigham Young University to earn an Ed. D. in kinesiology.
Lanford's groundbreaking dissertation, "The Effect of Strength Training on Distance and Accuracy in Golf," helped change the attitude of top amateur and professional golfers toward strength training. It also contributed to a career of academic and athletic appointments in which Lanford won numerous conference coaching awards — State University of New York at Cortland, Flagler College, Augusta State University and Florida State University.
While serving as an associate professor of kinesiology at Augusta State University in the early 1980s, Lanford was asked to coach the university's golf team. The team had been unremarkable despite the university's location in a city known for the famed Augusta National Golf Club, home of the Masters Golf Tournament. Under Lanford's leadership, the Augusta State University golf team won five Big South Conference championships between 1985 and 1991.
In 1991, Lanford returned to his alma mater at Florida State University and served as its director of golf and men's head golf coach. During his nine-year tenure, he guided the Seminole golfers to five NCAA appearances.
In 2000, Lanford left his athletic appointment and accepted an academic position as internship coordinator for the FSU Dedman School of Hospitality's professional golf management program. As a member of the Dedman faculty, he also served as its director of player development and taught as an associate in hospitality, earning the FSU University Teaching Excellence Award in 2006 and 2007.
"We called Ernie 'Coach' at Dedman because he was the former coach of the FSU golf team," said Cyrus Janssen ('06), an international business consultant in Vancouver, Canada. "But he has been an outstanding mentor — a constant source of support and encouragement without whom I wouldn't have accomplished anything in the golf industry."
At age 25, Jannsen became head golf professional for China's top private club, Sheshan International Golf Club, after teaching himself Mandarin Chinese. Seven years later, he moved to a private sports management company overseeing the flagship event for the PGA Tour of China at Hong Kong's Clearwater Bay Golf Club. Today, Jannsen is an independent consultant helping North American companies break into the Asian market.
"Coach Lanford's influence on my success as a PGA golf professional has been paramount," said Alison Curdt ('04), a practicing psychotherapist and PGA Director of Instruction at Wood Ranch Golf Club in Simi Valley, Calif. "He has been a primary supporter of my career and has contributed to so many other students' successes." 
Curdt was on the women's golf team at FSU and is the youngest woman in history to achieve PGA Master Professional status. She has received numerous professional teaching awards, last year being recognized by Golf Digest as one of the country's top 50 teachers. This summer, she will compete in the KPMG Women's PGA Championship and will be the first woman from the Southern California PGA Section to compete in the PGA Professional Championship.
"Coach Lanford has impacted the PGA greatly by cultivating fine PGA professionals who have the skills and knowledge to build successful careers and bring value to their facilities," Curdt said.
Lanford's near 60-year career also included a wide variety of professional service roles, including chairman of the board of the Florida State University Varsity Club (2011-12), coach of the U.S. Junior Golf Team for the 2001 National World Championship in Japan, and executive director of the Big Bend Junior Golf Association (1993-99). He has also served as a golf columnist for the Tallahassee Democrat newspaper and has been active in teaching golf to student veterans, among countless others, at Florida State University.
444