Dedman's award-winning faculty continues to receive praise from students
---
Dedman's award-winning faculty continues to receive praise from students
December 18, 2017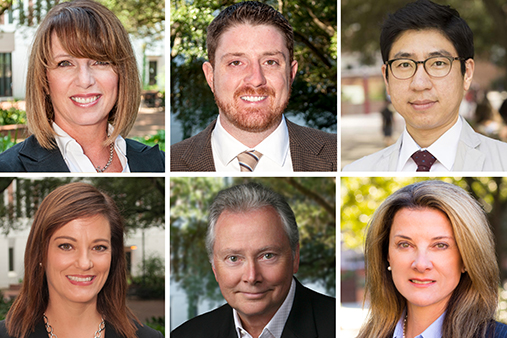 Graduates of the Dedman School of Hospitality have long cited the individual attention they received from its faculty as a contributing factor in their career successes. In a Thank-a-Professor program launched by Florida State University this fall, the school's faculty once again received student accolades.
FSU's Center for the Advancement of Teaching created the program to give students a chance to anonymously express their gratitude for the important and challenging work faculty do in the classroom.
"Dr. Line is not only a professor, but a true professional mentor," one student said. "The dedication and interest he takes in his student's lives, and his ability to help students clarify their values and interests is unmatched and rarely seen in higher education. He truly wants his students to succeed and works tirelessly to connect them with academic and employment opportunities that will propel them up the ladder of success."
Dedman's faculty members Nathan Line, Cynthia Johnson, and adjunct instructor Yong Joong Kim, received additional student kudos in emails from the center's director, Leslie Richardson. On behalf of the university, Richardson congratulated them for outstanding teaching, dedication to students, and their role in creating "a transformative learning environment."
Dedman faculty members Bob Brymer, Lydia Hanks, Kim Harris, and Nathan Line have all previously earned University Teaching Awards from Florida State. Recipients of the student-nominated awards must be deemed outstanding in many aspects of teaching: providing students a positive role model, imparting a respect for truth and a love of learning, challenging students' thinking and assumptions, showing respect for all persons, and using innovative instructional techniques.
Dr. Lydia Hanks has also previously been awarded FSU's Transformation Through Teaching recognition, which enables students to recognize faculty members who have had an intellectual, inspirational, and integrative impact on their lives.
"We are very fortunate to have dedicated, high-caliber faculty," Don Farr, director of the Dedman School, said. "Who are able to support our students in their development while producing cutting-edge hospitality industry research."
Learn more about the significant impact Dedman School of Hospitality faculty have made on the lives of their students on the Student Experience page of the school's website: dedman.fsu.edu/student-experience.
429