Club management students open 'Gold Gate' to career opportunities at CMAA World Conference
---
Club management students open 'Gold Gate' to career opportunities at CMAA World Conference
June 03, 2018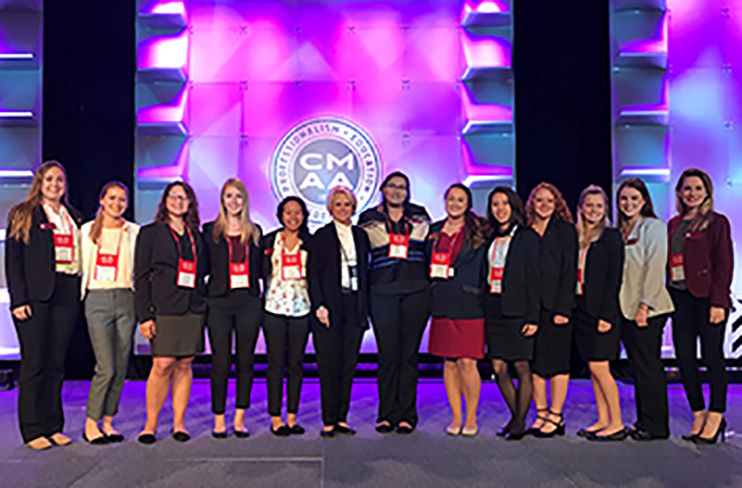 Twenty-five members of the FSU student chapter of the Club Managers of Association of America (CMAA) traveled to San Francisco for inspiration, professional growth, and unparalleled career prospects at the CMAA 91st World Conference on Club Management and Club Business Expo in March .
"This is the largest annual gathering of club industry professionals in the world," said Cynthia Johnson, director of the Dedman School of Hospitality's Global Club Management & Leadership program, who accompanied the students. "I strongly encourage our majors to attend, as it is the single greatest opportunity for them to learn about the industry and network with leaders."
Florida State University's student chapter of the CMAA enjoys a high level of engagement. This year, it was the only student chapter in Florida to exceed its membership recruitment goals — one of only eight schools nationwide to do so. In addition, fourteen of its students earned travel scholarships to help with expenses from the professional Florida Chapter of the CMAA.
"Club managers were in awe of our large student presence," Johnson said. "Throughout the conference, I would hear them comment on how amazing our students are. It's a huge compliment to the Dedman School of Hospitality and Florida State University!"
The five-day conference included nationally recognized speakers and education sessions with industry and leadership experts. Featured speakers were N.Y. Times best-selling author, Isaac Lidsky, former Navy Seal and leadership expert, Curt Cronin, first female Iron Chef, Cat Cora, and Airbnb head of global hospitality and strategy, Chip Conley.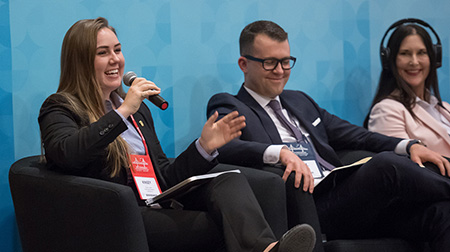 The education sessions focused on topics ranging from governance to membership marketing, but a favorite event among students was the mentoring showcase, where they were afforded the opportunity to network with club managers. Dedman students typically walk away from the event with multiple internship and job offers each year.
"As a student, the chance to be paired one-on-one with a mentor who is a club manager, to feel comfortable asking questions, and to discuss career and internship opportunities, was simply amazing!" said FSU senior Kinsey Aaron.
Aaron and fellow FSU students received offers from top private clubs, including Philadelphia Country Club, the Griffin Club, Cherokee Town and Country Club.
Students and club managers also mingled over local fare at a final networking event held on San Francisco Bay at one of the world's most prestigious sailing clubs, the St. Francis Yacht Club. Before a panoramic view of the Golden Gate Bridge and Alcatraz Island, they savored an evening of live music, a Chinese dragon dance and a laser light show.
446