Celebrating the 70th anniversary of Dedman School of Hospitality
---
Celebrating the 70th anniversary of Dedman School of Hospitality
June 08, 2017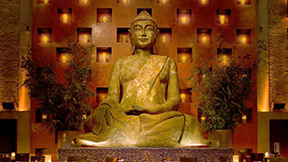 Below a towering, two-story Buddha, Florida State University hospitality alumni and friends dined on Pan-Asian fare at New York City's trendy Tao Uptown. Hosted by Dr. Cyd Bougae ('75) and Chris Burr ('82) on May 11, the Dedman NYC Alumni Dinner was the first of a series of events slated to celebrate the 70th anniversary of the Dedman School of Hospitality.
It was in 1947 when the Florida State College for Women was transformed into a coed Florida State University to serve the educational needs of veterans returning from World War II. That also was the year the Dedman School's earliest incarnation — the Department of Restaurant and Hotel Management — was established at the nascent university.
"Seventy years later, we continue to progress," said director Don Farr. "In January, we became an independent unit of Florida State under the Office of the Provost. We also launched our new website — dedman.fsu.edu."
Farr is looking to use the momentum of the school's platinum anniversary to develop new relationships with its seasoned alumni, and recent and future graduates. He plans to do so through several combined Meet the Director and Celebrate the 70th Anniversary events.
"One of the goals is to build our network of experienced and recent hospitality industry graduates in regions throughout the U.S.," he said. "I also hope to create awareness about everything happening at the school and to discuss opportunities for successful alumni to support our future initiatives."
Hosted celebrations are being planned for July 25 in the Washington, D.C. area and in August in both the Tampa/St. Petersburg (TBA) and Atlanta areas (Aug. 31). Details and information about events will be posted on the school's Facebook feed and emailed to alumni. Those interested in hosting events can contact Sarah Collins, the school's development officer, at scollins@dedman.fsu.edu.
All alumni and friends of the Dedman School of Hospitality are invited to celebrate the school's 70th anniversary at its 2017 Honors and Awards Dinner on Sept. 21, inside the new Champions Club at Doak Campbell Stadium. The school's 2017 Alumnus of the Year will be honored at the event.
410