Augusta and the Masters: A perfect fit for Dedman club management students
---
Augusta and the Masters: A perfect fit for Dedman club management students
May 02, 2017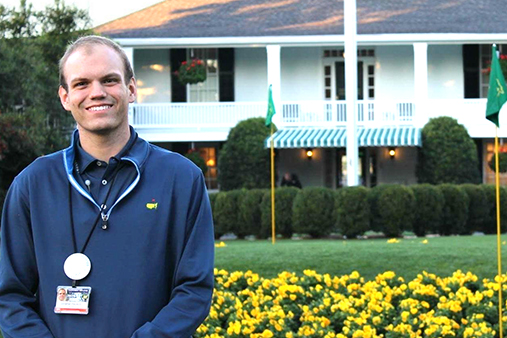 Florida State University's Dedman School of Hospitality and Augusta National Golf Club partnered to put world-class experience on the resumes of nearly 65 students at the Masters Tournament in April.
Long before Spanish golfer Sergio Garcia was awarded the most famous jacket in sports, students from Dedman's Global Club Management & Leadership (GCM&L) program received news they would be working at the week-long event.
"They were interviewed and selected by the most exclusive golf club in the world to work at perhaps the sport's most prestigious tournament," said Cynthia Johnson, director of the GCM&L program. "That is of tremendous benefit in terms of industry experience for students in this major."
Students majoring in Global Club Management & Leadership at the Dedman School of Hospitality are preparing for careers in the management of private clubs — golf, country, yacht, and city clubs — as well as international golf resorts. An integral component of the major is its internship program, in which students gain experience for those careers.
"The advantage of hiring our students for the Masters is that they already have experience and education in the club industry," said Johnson.
During the tournament, students held management and service positions at Augusta National's members-only clubhouse, Berckmans Place hospitality center, new press building, golf shops and other facilities. They enjoyed a rare, behind-the-scenes look at what it takes to run an international golf tournament and broadcast it to the rest of the world.
"We have developed a mutually beneficial relationship with Augusta National and the Masters," said Don Farr, director of the Dedman School of Hospitality. "It is an extraordinary opportunity for our students to showcase the skills and knowledge they've acquired at the Dedman School."
In the past year, the number of Florida State students selected to work at the Masters Tournament increased from roughly 39 to 65. There was also an increase in the number of students recruited to return in supervisory and management roles.
402
402