Alumni Spotlight: Andrew Rubinacci, Class of '91
---
Alumni Spotlight: Andrew Rubinacci, Class of '91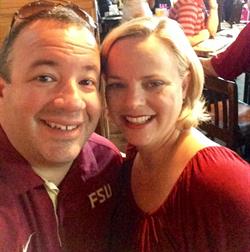 Andrew Rubinacci, who graduated from Florida State University in 1991 with degrees in hospitality administration and marketing, recently funded the Andrew and Marybeth Rubinacci Dedman School of Hospitality Director's Office in Legacy Hall. His wife, Marybeth, is a 1993 Florida State graduate, who majored in speech pathology. Rubinacci is senior vice president of Distribution Marketing & Revenue Management for InterContinental Hotels Group (IHG), where he is responsible for all revenue management, third party Internet and global distribution systems for their family of brands.
We asked the 25-year veteran of the hospitality industry, with extensive experience in sales, revenue management, guest services, hotel operations and e-commerce, about their generous gift and experience at Florida State University.
Q. Why did you and Marybeth create the Andrew and Marybeth Rubinacci Dedman School of Hospitality Director's Office?
A. Florida State University has been a major part of our lives. In fact, it is where Marybeth and I met. We owe so much to the university that we felt it was right to give back.
Q. What is the most rewarding part of your investment in the legacy of the Dedman School and the College of Business?
A. It is rewarding to know this gift will be used to develop the business leaders of tomorrow.
Q. What was your first job after graduation?
A. I was accepted into a management training program with Holiday Inn Worldwide. It was the first step in my career in the hotel industry.
Q. How did your education at the College of Business help prepare you for your career?
A. Florida State's hospitality program gave me a strong foundation in hospitality and business that accelerated my career. Something that one of my teachers, either Ashby Stiff or Bob Brymer, said about the value of hospitality to people has always grounded me: In the hotel industry, people spend some of their most memorable times with you. It might be at a wedding, a honeymoon, a vacation or just on a road trip with friends. These are the events in life that people live for and will always remember. As an hotelier, you can make those memories truly special.
Q. Why did you choose your profession?
A. I had to do a report as a junior in high school on "What do you want to be?" and hotel manager caught my interest. After that, it was looking at the best hospitality schools in the nation, and Florida State ranked very high. It was a natural fit.
Q. What is/was your ultimate career goal?
A. I want to do something that makes an impact on the industry. I have that in my current role, but I am by no means done with learning and growing.
Q. Is there anything you wish you had done differently?
A. Not much, but I do wish I had completed an MBA. I believe it would have accelerated my career.
Q. What is the best part of your job?
A. I get to work with people from all over the world, learn new cultures and work on really challenging issues that impact my company and the hotel industry.
Q. What do you consider your greatest accomplishments?
A. My sons, Nic and Drew. No matter how much success you have in other areas of your life, watching your children learn and grow into great people is extremely rewarding.
Q. What did you learn in college that has helped you to succeed?
A. Get involved, listen and understand, be a part of the solution, work hard and see things through. This works in school, work, family and life, in general.
Q. What advice do you have for COB students interested in your field?
A. Hospitality is a fantastic industry and I would highly recommend it. Hotels are dynamic, ever-changing, a ton of hard work and a lot of fun. You can't go wrong in pursuing this career.
Q. Anything else you would like to say?
A. Go Noles!
10