2018 Cecil B. Day Award conferred on Sheila C. Johnson of Salamander Hotels
---
2018 Cecil B. Day Award conferred on Sheila C. Johnson of Salamander Hotels
March 09, 2018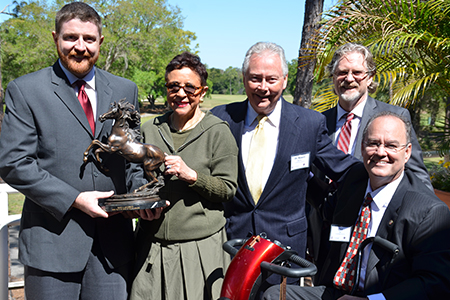 Sheila C. Johnson, founder and CEO of Salamander Hotels & Resorts, was awarded the 2018 Cecil B. Day Ethics Award at the company's Salamander Innisbrook Resort in Tarpon Springs, Fla., March 9.
Each year, the Dedman School of Hospitality confers the award upon a highly successful hospitality industry leader who is recognized for ethical leadership. It honors the memory of Day, whose success building the Days Inn chain reflected his faith-based values that led him to treat everyone with dignity and respect. Day's son, Clint, a 1982 Florida State University graduate established the award in 2007.
Johnson is a highly successful businesswoman and philanthropist. In addition to leading Salamander Hotels, she is vice chairman of Monumental Sports & Entertainment, on the executive committee of the United States Golf Association, a partner in Mistral products, and co-founder of WE Capital. Johnson also co-founded Black Entertainment Television (BET) and the Middleburg Film Festival in Virginia.
Robert Brymer, the Dedman School of Hospitality's Cecil B. Day Professor of Lodging Management, presented the award to Johnson. In addition to Clint Day, he was joined by Dedman School director, Don Farr, and assistant professor, Nathan Line.
"We are pleased to honor Sheila Johnson, whose leadership and service shares the values exemplified by the late Cecil B. Day," said Brymer.
Past recipients of the Cecil B. Day Award include Dan T. Cathy, Chick-fil-A; Cheryl Bachelder, Popeyes Lousiana Kitchen; Robert B. Rowling, TRT Holdings, Inc.; Joel Manby, Herschend Family Entertainment Corporation; Eric Affeldt, ClubCorp; J.W. "Bill" Marriott Jr., Marriott International Inc.; Richard Rivera, Real Mex Restaurants Inc.; Michael Kaufman, National Restaurant Association; Horst Schulze, Capella Hotel Group; Craig Miller, SONIC Drive-in; and Truett Cathy, Chick-fil-A Inc.
430