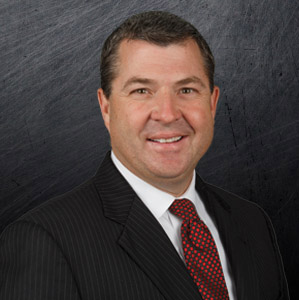 Brian A. Ford, Jr., is chief operating officer of the Tampa Bay Buccaneers. He joined the organization in 2006 and he oversees all aspects of the organization's day-to-day business operations and community involvement.
He works directly with team ownership to ensure that Buccaneers fans, season pass members and corporate sponsors receive a first- in-class experience. Under Brian's leadership, the Buccaneers have consistently earned top marks among NFL teams for customer service experience, ranking No. 1 in the league's annual Voice of the Fan report for the fourth time in the past five seasons.
Prior to joining the Buccaneers, Brian was part of the team that opened Raymond James Stadium as the district manager with Fine Host Corporation in 1998. He remained in that capacity until 2006, when he began his career with the Buccaneers.
An active participant in and around the Tampa Bay area, Brian is a member of the Pediatric Cancer advisory board in addition to serving on the boards of Ronald McDonald House Charities of Tampa Bay, American Cancer Society CEOs Against Cancer, Sports Advisory Council for Special Olympics Florida, Saint Leo University Sport Business Advisory Council, and Tampa Bay Area Chiefs of Police Foundation.
Brian has also been a driving force and annual participant in the team's annual Cut for a Cure event that has raised over $110,000 for the National Pediatric Cancer Foundation over the past four years. Prior to the 2016 season, Brian also became a member of the Honorary Commander 927th Air Refueling Wing, which allows business men and women from the local community an opportunity for an up close and personal experience of the policies, programs and overall mission capability of the United States Air Force.
A native of Miramar, Florida, Brian graduated from Florida State University in 1989 with a B.S. in hospitality administration. He is an avid runner and triathlete and competes in numerous events each year, including a marathon each of the past 13 years as well as several 70.3 Half Ironman events over that same period.
He and his wife, Judy, live in Tampa, and have two sons, Brian III and Brandon. Judy is an active member of the Buccaneer Women's Organization, which hosts charitable functions and community service projects in Tampa Bay throughout the year. The Ford's sons both attended their parents' alma mater, Florida State University.
title-inside title-centered
2